Contract Research &
Analytical Instruments
Save time and resources by employing our instruments and services for
validating
selecting
optimizing
your candidates prior to clinical trials
Only 1 out of 10 drug candidates
entering clinical trials succeeds


Validating candidates prior to clinical trials –
doubling the success rate and saving up to
50% of clinical trials costs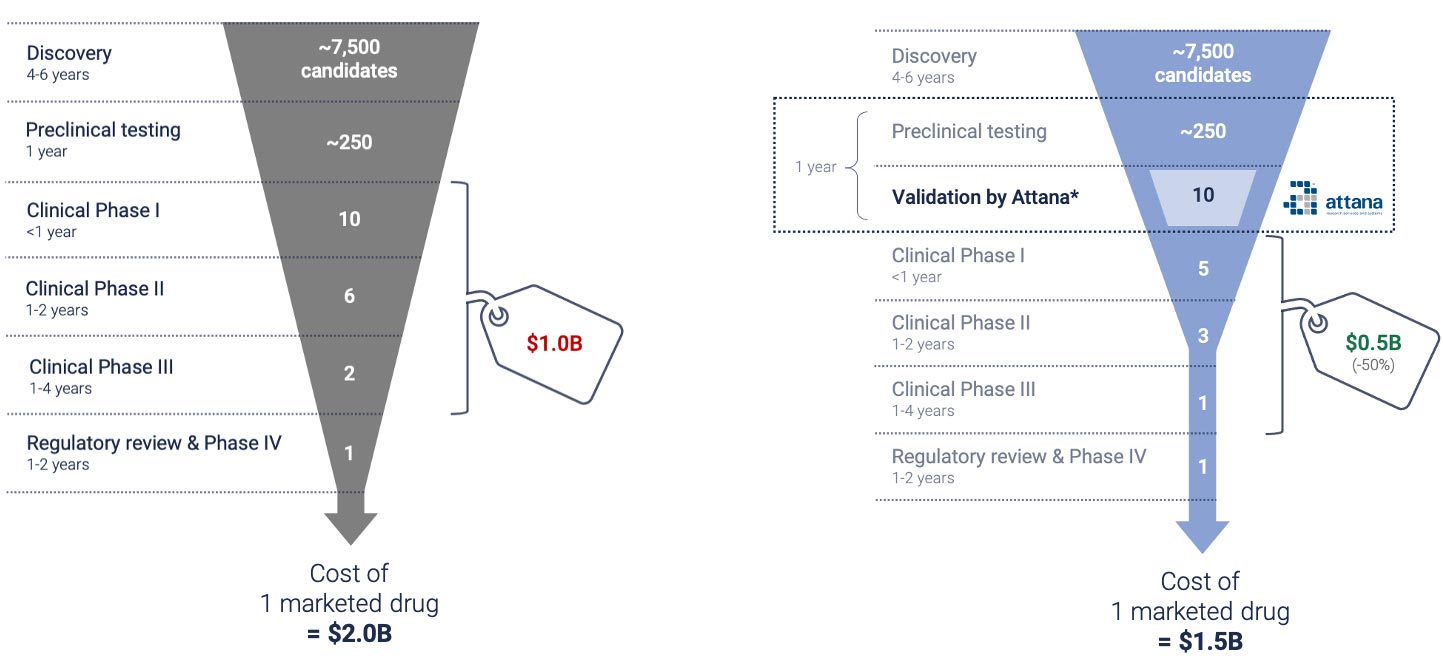 Sources: Pharmaceutical Research and Manufacturers of America & Deloitte
A proven track record of 103
assessed drug candidates
Our track record of 100+ analyzed candidates has so far shown a high accuracy in determining which candidates will succeed in clinical trials, improving clinical trials success rates and increasing productivity
Pharmaceutical drug candidates assessed by Attana (2013-2022)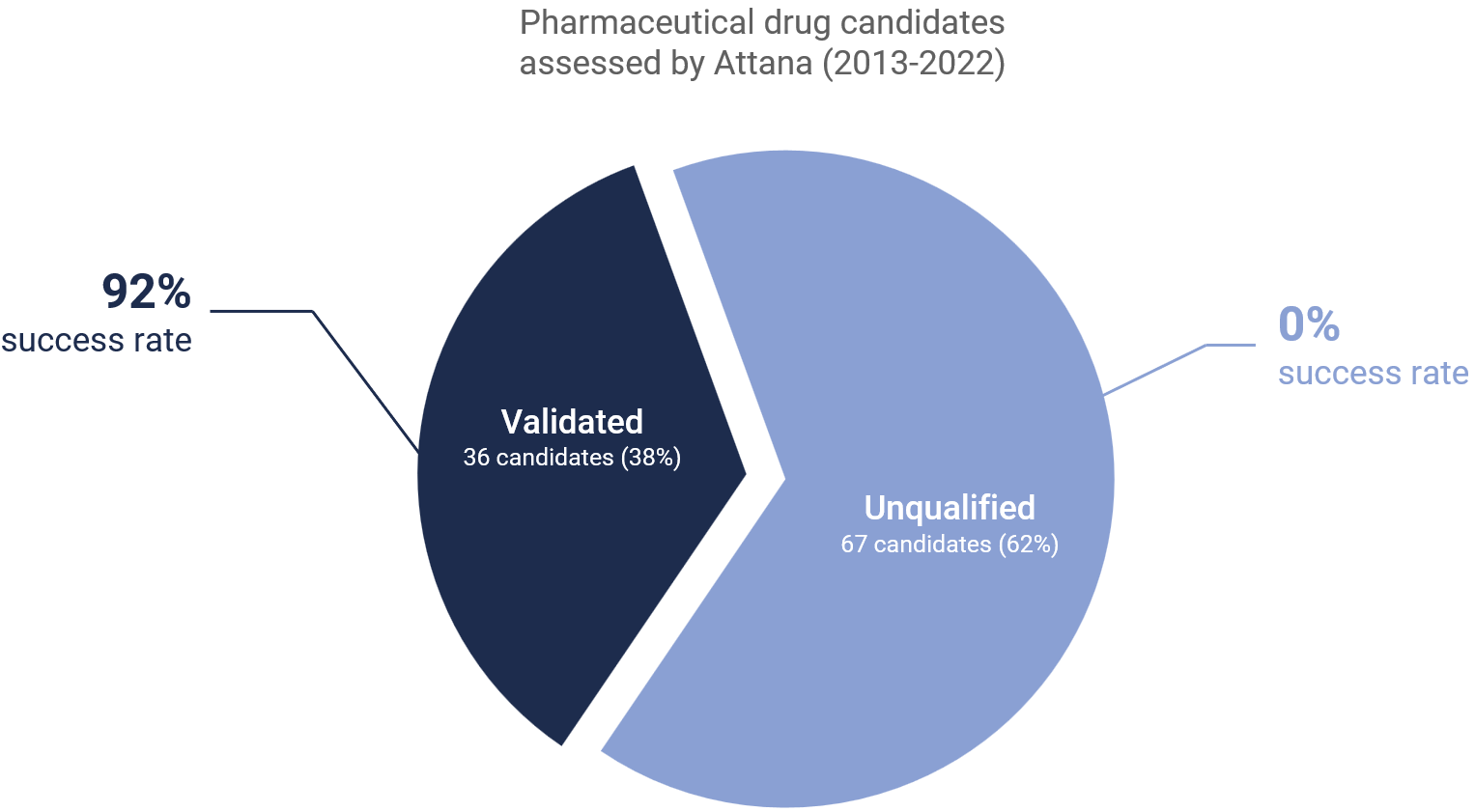 Exceeding all expectations with a 4.4x increase in clinical trial success rates
Assuming the outcome of our validated candidates follow industry average transition rates for future phases, we have improved the overall clinical trial success rate by more than 4x. By accurately classifying candidates prior to clinical trials, we allow pharmaceutical companies to focus on the most promising candidates, increasing their efficiency and profitability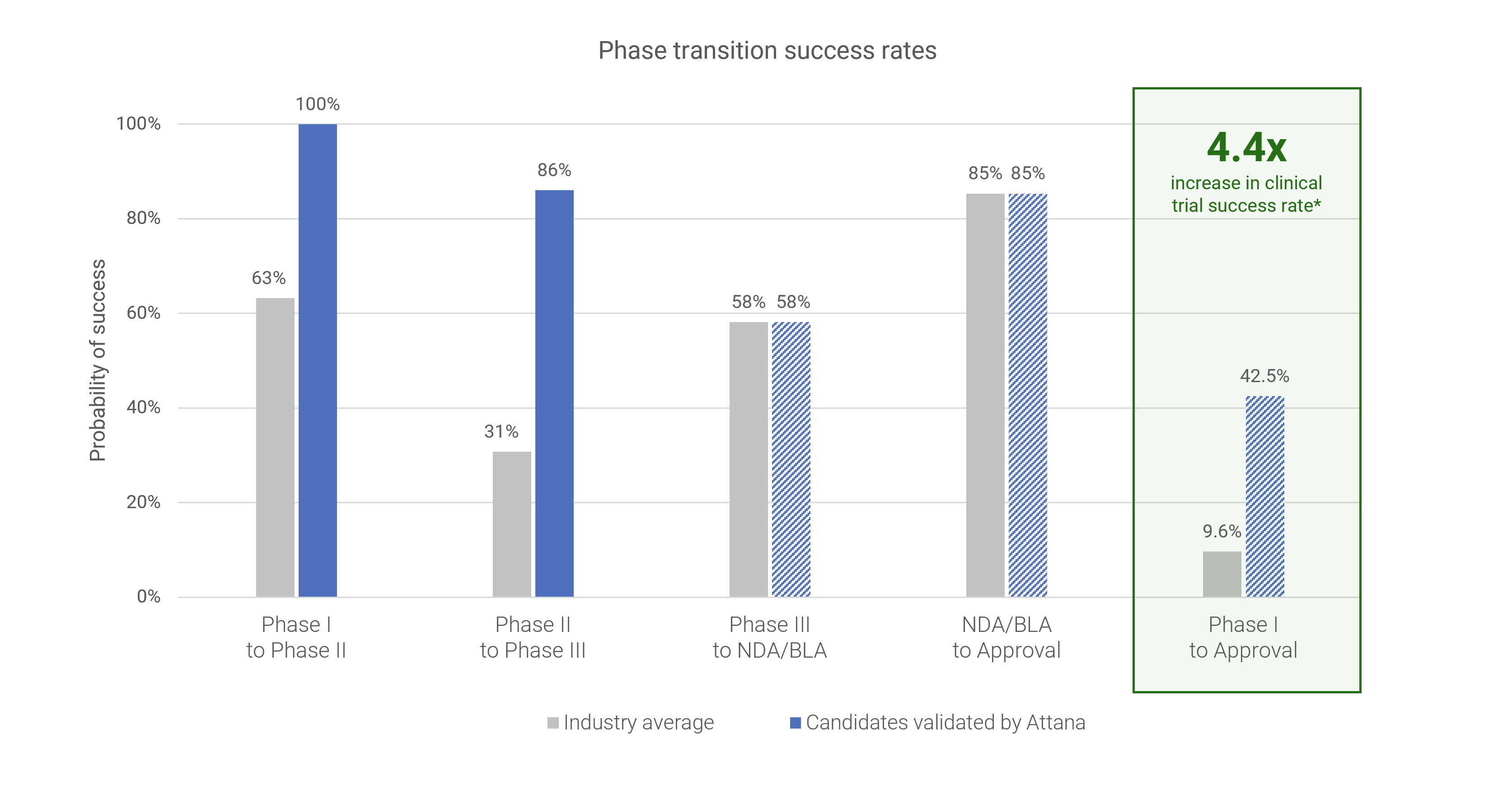 Sources: BIO, Biomedtracker, Amplion and IBI
*Assuming candidates validated by Attana follow industry average success rates from Phase III to Approval
Work hands on with our professionals and experience the full potential of our analytical instruments' versatility and precision. We offer a wide range of flexible solutions catering to your specific research needs. Together, we enable you to gain crucial insights on your drug candidates ahead of clinical trials, optimizing your R&D process
Collaborative experiments – When we combine our technology and experienced staff, we will boost your drug development process. Cell interactions is our passion, and we will make sure that you get the most out of your research
Attana Cell™ 250 – Our 3rd generation biosensor allows for studies on molecular interactions between proteins, DNA and carbohydrates as well as interactions to cells cultured on our sensor surface
Biosensor chips – Easy-to-use and high-specific biosensor chips reading and storing all the relevant assay data

Reagents & buffers – We supply the necessary reagents and buffers
Interested in our Contract Research?
We look forward to discuss how we can assist
in bringing further success to your R&D efforts
Explore our Analytical Instruments
Equip your lab with our biosensors and gain 24/7 access to the next generation of bioanalysis. We will train and certify your team allowing you to perform a wide array of assays with full confidence. Integrate our analytical instruments into your development process and increase the return on your R&D investments
The next generation of bioanalysis
Attana Cell™ 250 – Our latest analytical instrument is quicker, quieter and more user-friendly; it features a new and fully integrated autosampler, delivering improved sample handling and instrument operation.
Our 3rd generation biosensor allows for studies of biomolecular interactions between antibodies, proteins, DNA and carbohydrates as well as interactions with cells cultured on our sensor surface
Biosensor Chips – Easy-to-use and high-specific biosensor chips reading and storing all the relevant assay data

Reagents & Buffers – We supply the necessary reagents and buffers

Training Kit – An all-in-one educational kit including all the relevant resources to to fully master the Cell™ 250
Technical service agreements – Access to our technical experts for on-site service and other inquiries regarding the equipment

Assays protocol – A protocol including a step-by-step guide to ensure successfully performed assays

Training – We offer effective training sessions qualifying scientific staff for independent instrument operation
Interested in our Analytical Instruments?
We look forward to discuss how we can assist
in bringing further success to your R&D efforts